Some good news
A rejuvenating natural world has been one of few bright spots in Thailand's Covid-19 story, and several examples have come from the islands.
"Thailand has found the largest number of nests of rare leatherback sea turtles in two decades on beaches bereft of tourists," Reuters reported after interviewing the director of the Phuket Marine Biological Center.
Further south off the twin islands of Ko Rok, officials from Mu Ko Lanta Marine Park photographed a pod of endangered false killer whales. Then, off the coast of Ko Libong in Trang province, endangered dugongs were congregating in unusually high numbers. Here's a video of them from above.
Hanging with the stars on Ao Siao.

Up in Phang Nga province, reef sharks appeared close to the beach on Ko Hong in Than Bok Khorani National Park. Meanwhile, Phuket Andaman News posted a video of bottlenose dolphins darting around a small boat near the Similans. Speaking of dolphins, rare pink ones were also spotted off Ko Phangan.
And here's a video of starfish piling into the shallows of Ao Siao in mainland Krabi province. I love this typically empty beach near Ao Nang, and while I've spotted starfish there several times, never in such numbers.

Animals in trouble
Not all of the wildlife returning to the islands is so friendly. Bangkok Hospital on Ko Samui reported "a large number of Portuguese man-of-war jellyfish" around the normally bustling Chaweng Beach this past Tuesday.
In more bizarre wildlife news, an Australian, an American and two Thais were charged with trespassing on the now-permanently closed Phuket Zoo after sneaking in to feed a tiger and other animals that appeared to be neglected. After speaking with some zoo staff and posting a video of the caged animals on social media, the seemingly well-intentioned crew quickly raised a staggering $45,000 USD to help care for the animals. However, conservationist Edwin Wiek told Thai Enquirer that "the fundraisers may have complicated the possible rescue of the animals."
Elephants are also in trouble, as reported by The New York Times and other outlets. While that article focuses on Northern Thailand, I've heard several reports of elephant camps in the South that are struggling to keep their jumbos fed as well. This is one issue that I'm looking into for a coming edition of Island Watch.

The Covid-19 situation
Thailand's tight restrictions have suppressed the virus, it seems, with only seven new infections reported on 30th April in the entire country. This was the third day in a row in which nationwide reported cases were in the single digits. The country remains in a state of emergency with a curfew in effect from 10:00 P.M. to 4:00 A.M.
Four of these new cases came from a single household in Bang Tao, Phuket, the island province that — with 209 total cases reported — has been the second hardest hit Thai province after Bangkok. Phuket's international airport will remain closed to commercial flights until at least 15th May, and restrictions on local travel that have cut the small districts off from one another, will stay in place for now. Sadly, beaches are still closed as well. Phuket people, I feel for you.
Not far from Phuket, a single infection was also discovered on Ko Phi Phi:
Most other Thai islands and many mainland coastal towns have not reported a new Covid-19 infection for two weeks or more. Several infections were discovered on Ko Lanta a few weeks ago, but tight restrictions appear to have done the trick.
All over Thailand, everyone is waiting eagerly to find out which restrictions might be lifted next week. For one, Ko Yao district has already started allowing people on to the islands from within Phang Nga province. One Covid-19 infection was discovered there in mid April, prompting a "no one in or out" order.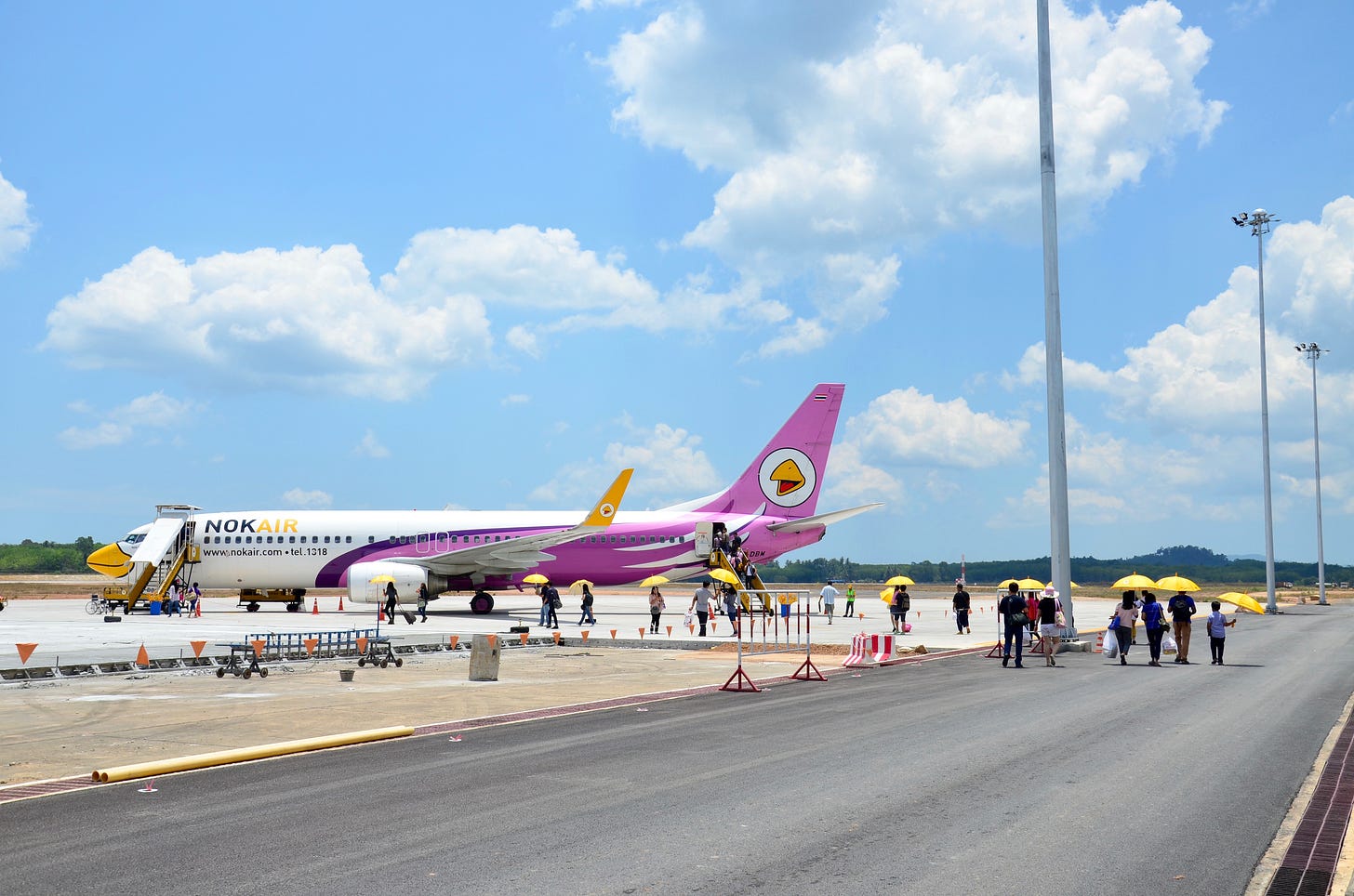 As most domestic airlines grounded their planes in April, Nok Air continued flying several routes.

Airports of Thailand has announced that 14 provincial airports, including several in coastal provinces, will reopen today. Ko Samui will have to wait until 15th May for its airport to open, but flights are operating out of Surat Thani Airport on the mainland. A total of seven Covid-19 infections have been reported on Ko Samui, but none either there or on nearby Ko Phangan or Ko Tao over the last two weeks.
While it's likely that certain shops, parks and other public spaces will reopen across Thailand over the course of this month, decisions are being left up to each provincial governor and there is much variation between them.
Some coastal provinces will keep requiring 14-day self-quarantine for anyone entering over the coming weeks. From the start, Trat, Phang Nga and Ranong provinces have reported zero cases of Covid-19 despite hosting notable tourism destinations like Ko Chang, Khao Lak and Ko Phayam, respectively.

Booze ban continues
Kudos to whoever created this excellent new site which concisely answers the question, "Can I buy alcohol in Thailand now?"
The nationwide alcohol prohibition is now set to continue "until further notice." Thailand and the Philippines are the only countries in the world to have fully banned alcohol as a Covid-19 containment measure. In the midst of Thailand's worst economic crisis since at least 1997, I'm not the only one who thinks it's ridiculous. Or, to quote a friend, "very mean."
Tourism woes
The Thai tourism industry is in economic free fall. Every day, out-of-work people are lining up in "rice lines" and desperate scenes of queuing masses have become the definitive images of the Covid-19 crisis in Thailand.
People are struggling everywhere, but especially in the many islands and coastal areas where tourism revenue is heavily relied upon. Financial assistance promised by the government has been mired in delays, a crashing website and widespread reports of deserving applicants being denied. As numbers of Covid-19 infections decline rapidly, Thailand's suicide rate is on the rise.
Social distancing in a rice line at a Trang temple last week. (Source: PPTV HD 36)

Roughly six million tourism jobs have been or will be lost in Thailand, according to the UN International Labor Organization. Estimates suggest that Phuket alone stands to lose 127 billion baht ($4 billion USD) in tourism revenue from February through July. In addition, the restaurant/bar and fishing industries are being hit hard throughout coastal Thailand and beyond.
It's not only Thai people who are reeling from the loss of income. Migrant workers are in trouble too. In the deep Southern border town of Sadao, 42 Covid-19 infections were discovered in an overcrowded migrant and refugee detention center. Thousands of migrant tourism workers are out of work and stranded in the islands, too. On Ko Samui, a pair of foreign residents was reprimanded by police for handing out free food to migrants without instituting steps for social distancing.

Community solidarity
Communities across coastal Thailand are fighting to keep everyone fed and sheltered. The number of charitable activities being held every day is breathtaking. Some are organized by established charities, but many are spontaneous outpourings of generosity led by people with little or no charitable experience.
The grassroots assistance unfolding at temples and restaurants offers hope that community solidarity will see the most vulnerable through this crisis.
One of the myriad examples of generosity that caught my eye involved family-run Ni Restaurant on Ko Lanta, whose owners put out the word that they were struggling to keep the business afloat. In response, the community rallied to save it. Writing on Facebook, an owner expressed his gratitude:

Stranded in paradise
On Ko Samui, Ko Phangan and Ko Tao, roughly 10,000 foreign tourists were left stranded when international commercial flights into Thailand were abruptly halted early last month. Plenty more were stranded on Phuket, Ko Chang (Trat) and other islands. The flight restriction has been extended through May.
A handful of airlines continue to fly empty planes into Bangkok to pick up departing passengers. Finding a ticket can be extremely difficult. Even if able to book a flight, reaching Bangkok from islands and other parts of coastal Thailand can be a daunting task. Some tourists are splitting cab fares for trips of 12 hours or more, including stops at numerous checkpoints. For others, home has never felt so far away.
Thankfully, the Thai government extended a reprieve on visa expirations until 31st July, a welcome turn around after foreigners were forced to crowd into immigration offices before the initial reprieve was announced early last month.
Some stranded tourists are running out of money, and others have gone broke. A young Russian man had no choice but to trade Ko Samui for a free stay in a Surat Thani temple, where the monks say he's earning his keep. Over on Ao Tonsai in mainland Krabi province, a Russian couple was found living in a cave. Some communities are helping stranded tourists more than others.
After being caught at parties, some tourists and expats have been arrested and fined for breaking restrictions on gatherings. Word from Ko Samui is that tourists caught partying at a hostel early last month spent 15 days in district jail. Meanwhile, a party at a house owned by the chief of Ngao Waterfall National Park in Ranong showed that it's not only foreigners who sometimes break the rules.

Restrictions may vary
With each provincial governor calling most of the shots, the severity of restrictions varies widely among the islands and provinces.
Early last month, tourists on Ko Lanta who had not arranged long-term lodgings were corralled into four "quarantine hotels," as rental cars and motorbikes were banned and the island divided into three sections separated by road blocks. Six total infections have been reported on Ko Lanta, with none over the last couple of weeks.
Most islands have remained largely closed off from the outside world since early April, with freedom of movement still allowed on the islands themselves. This has been the case on Ko Chang (Trat), Ko Tao, Ko Samet, Ko Mook, Ko Phayam and many other islands. Closed since early last month, most marine park islands will likely remain off limits until near the end of this year.
Displaying how different the guidelines can be, these two videos show the two most popular Thai island's busiest beaches last month:
Above, footage by Noran Lebbeling shows Ko Samui's Chaweng Beach on 11th April.
Below, footage by Vertigo Video Productions shows Phuket's Patong Beach (among others) on 6th April.
Some of the loosest restrictions have come on Ko Phangan and Ko Samui, both of which have remained accessible by daily ferries from Don Sak in mainland Surat Thani province. Freedom of movement has been allowed, and Lomprayah has even kept this pair of large islands connected by daily speedboats.
On Ko Lipe, some 60 foreigners, mostly dive instructors and others who are based there, are now sharing this stunning little island with a couple hundred native Urak Lawoi islanders and a smaller number of Thai residents. One speedboat per week continues to make the long trip to and from Pakbara. Few are using it.
Imagine what it's like being stranded on Ko Lipe:
In a word: envy.

In other news
Writing for CNN Travel, the great Joe Cummings recalled what it was like researching the first Lonely Planet guidebook to Thailand in the early 1980s, including on the islands of Ko Si Chang and Ko Samui during its early days of tourism.
Speaking of Ko Si Chang, Eric Lim of the highly informative Tour Bangkok Legaciessite published an account of his recent trip to this pretty and historic island located only 100 km southeast of the Big Mango.
Finally, the Thai government is proposing Thai sea salt for inclusion on a UN global heritage list, pointing out how it has been a crucial product of Siam / Thailand going back almost a millennium.